---
HELP YOUR CAT EAT SLOWLY TO AVOID VOMITING PROBLEMS
Most Furrents accept vomiting as a natural part of their behavior, but just because cats seem to have more than their fair share of stomach issues doesn't mean you don't have options.
Our Anti-Vomiting Orthopedic Pet Bowl is a stylish, functional and is 100% designed with your cat's well-being in mind! This safeguards your kitties from the pains of vomiting which is proven to be destructive especially in their old age.
See your pets' overall health improve by just by changing the way they eat!
We are pretty sure kitty's all-in. Now let us catch you up.
Raised feeder stand makes the bowl suitable for your cat regardless of shoulder height and appetite. Non slip stoppers on bottom prevent overturning. There is no worry about your pets overturning the bowl and making a mess on the floor.
Its BPA free and Non-Toxic: So don't worry if kitty licks the bowl all the way to the bottom!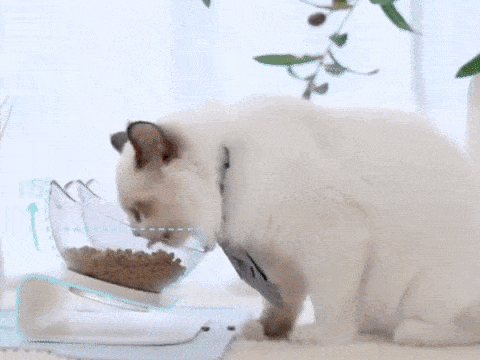 🐾 15 ° inclined design: The unique buckle design can fix the inclination of the double cat bowls to 15 ° to achieve the best feeding posture, cat bowls protect the pet's cervical spine, and suitable for different cats. The shallow depth and angle of the cat dishes make it easier for cats to get food, prevent beard fatigue and keep the face clean.
 🐾 Perfect stand: The comfortable 2.5-inch stand design increases the height of the cat food bowls, reducing the pressure on the cat 's neck and abdomen, helping the cat to swallow more easily and reducing occasional vomiting, and promoting the health of the digestive system.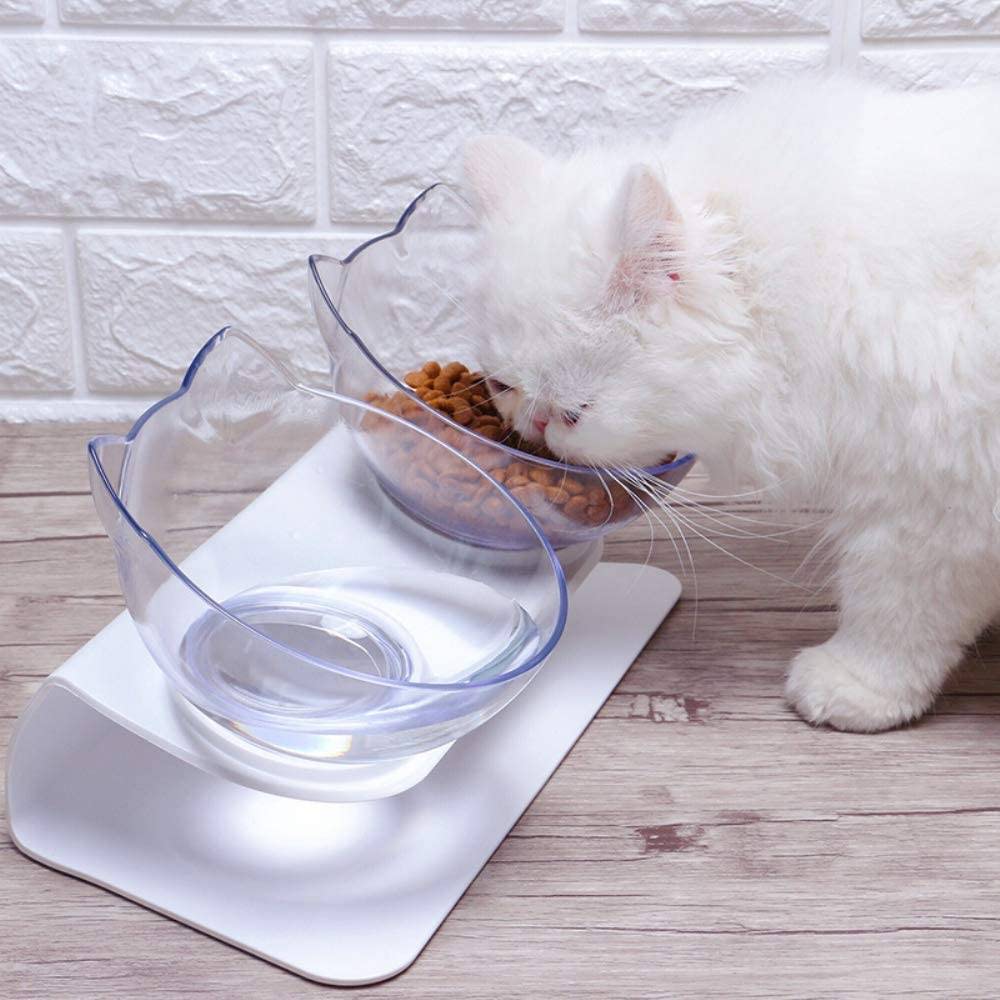 🐾 Removable+ easy to clean: The cat feeder is removable and easy to remove to keep it clean. Just use a rag or sponge to clean, then rinse with water and air dry. Moreover, food or water can be added at the same time.
🐾Splash-proof and anti-skid: There are anti-skid rubbers on the cat water bottom to prevent pets from sliding and tipping when eating, thus eliminating the pet's impact sound when eating. A slightly inclined surface prevents food from spilling.
🐾 Advanced Materials: The cat bowl specially prepared for your pet is made of environmentally friendly food-grade plastic, which is non-toxic and safe for your pet, so it is more pleasant to eat. The cat bowl using imitation porcelain has gloss, touch and no noise when used. The simple Nordic design looks great in your home decor.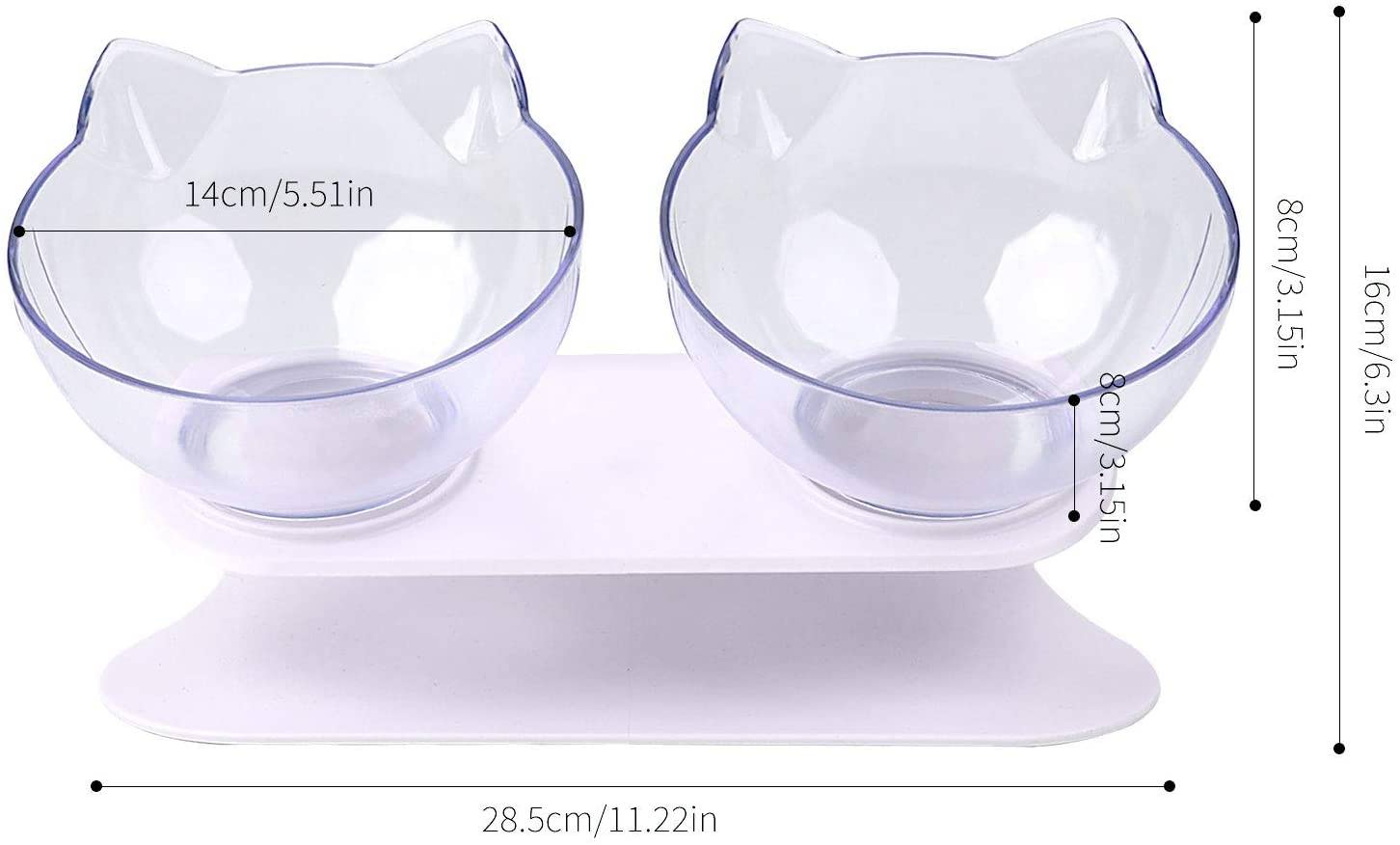 Designed by Purrfectiion
Our beds provide a safe space for your cat to relax in, with the raised rim, ultra soft padding and covers it allows them to mimic being hugged by their mother.
All Fluffy Cat Beds are delivered from our US warehouse with a delivery time of 2-5 days. 
We use only the highest quality materials and take pride in the production of our beds. Washable and high quality filling are all features you will find on our products
Our beds are completely machine washable using the Light cycle option. They can also be hand washed if needed. 
Please refer to the size guide. If you still aren't sure then email us and our team will happily help you make a decision.
Our fluffy cat beds are only available on our online store. We prefer to sell directly to our customers to keep the prices as low as we can
Our Fluffy Cat beds are made from a external polyester cover and our inner filling consists of soft PP Cotton.